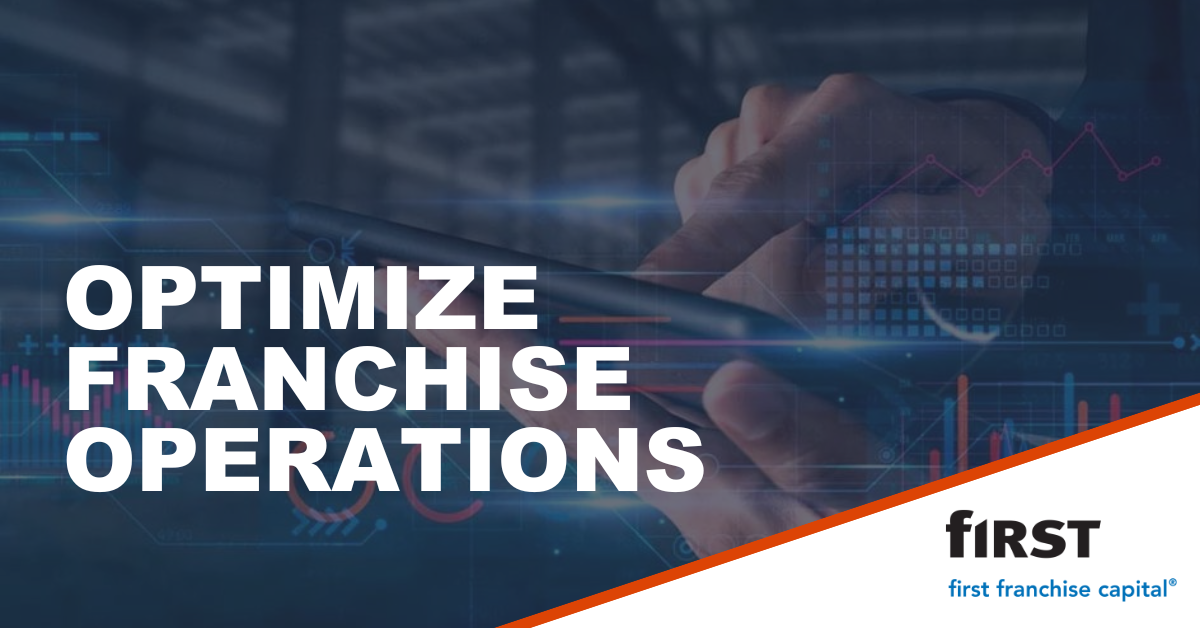 You're running your franchise business and things are going well, but you'd like to improve your margins. We've gathered four tips to help you optimize your franchise operations to improve your bottom line, your customer service, and your employee engagement.
---
4 Steps to Optimize Your Franchise Processes:
---
1. Develop a strategic plan
The first step to optimizing your operations is developing a strategic plan. A strategic plan looks at the internal and external features of the business. It takes into consideration the fundamental vision of the business, how the company is run, and measures success of the plan through data. The plan guides decision making at every level of the franchise with the goal of achieving growth and optimization.
Once the plan has been created, it is important to share with every staff member. If team members are to become responsible and accountable, they need to know what's going on. Socializing information and key metrics across the entire organization will allow staff at all levels to sense what's important and take the right actions at the right time.
Strategic planning, built on shared understanding, empowerment, accountability, timely performance measurement and continuous improvement, can propel the growth of your business.
2. People over process
The most important piece of your business is people; not processes. Employees want to feel valued and supported in their role. Customers want to feel heard and respected. Listening to your employees and customers will provide insights into your business that no analytical software can ever provide.
The modern workforce is accustomed to receiving supportive messages from family, friends, and social media networks. Public recognition for personal achievements and jobs well done will go a long way in making your employees feel valued. Customers will also appreciate seeing how you celebrate the successes of your employees. On the other hand, if a team member is failing to meet certain metrics, do not call them out individually for their poor performance. Instead, present the overall performance for the entire team. The poor performers will be able to see they're not keeping pace with their peers and will either decide to work harder, or possibly work elsewhere.
Your franchise should be a welcoming place that reflects the population of the communities you serve. Having (and enforcing) policies that support that environment is part of the equation, but a clear and open commitment on your part matters even more. Not only will your employees feel supported, but your customers will be more likely frequent places where they feel represented.
3. Invest in technology
Customers want faster and more accurate service with more options. Employees want to avoid the menial tasks that could be completed by a robot. While the technologies to meet these demands come at a high implementation cost, they may be the ticket to separating your franchise from the competition while increasing revenue. For example, Arby's automated their meat roasting process so employees no longer have to come in three hours before the store opens. This technology saves time and money because the franchisee no longer has to pay an employee to turn on the ovens.
Analytics provided by technology for POS systems, menus, and employee scheduling will provide greater insights into your business and help you find areas to improve. For example, analytics can help you predict what items are most popular at specific times of the day to avoid running out or preparing excess of an item. An automated menu will highlight certain menu items based on the weather to encourage customers to buy hot items on colder days or cold items on hot days.
Technology is the way of the future, so embracing it when the opportunity makes sense for your operations will be vital.
4. Network, network, network
Build relationships with suppliers, other franchisees, and industry experts. Strong relationships with your suppliers and other franchisees are vital. With a limited amount of product to deliver, suppliers are more likely to provide for those franchise owners that have demonstrated loyalty. Be top of mind with suppliers, and you'll be aware of shortages before it becomes an emergency. This will help ensure your operations continue to run smoothly with little to no interruption in supply.
Additionally, consider partnering with other franchise owners to place larger orders when suppliers offer bulk pricing or set minimum order limits. You can also share supplies with other franchise owners if you are short an item and they have excess. Finally, network with other franchisees in your region and learn tips from others who have optimized their franchise operations. As you optimize your operations, share your tips with other franchisees who could benefit from your knowledge.
---
First Franchise Capital does not make any representation as to the accuracy of materials presented in any webinar, whitepaper, vlog or blog, nor legal or financial information contained therein. Third party advertisements, links or presentations are not endorsements or recommendations by First Franchise Capital. Any materials presented are for informational purposes only. They are not offered as and do not constitute an offer for a loan, professional or legal advice or legal opinion by First Franchise Capital and should not be used as a substitute for obtaining professional or legal advice. The use of any materials, including sending an email, voice mail or any other communication to First Franchise Capital, does not create a relationship of any kind between you and First Franchise Capital.