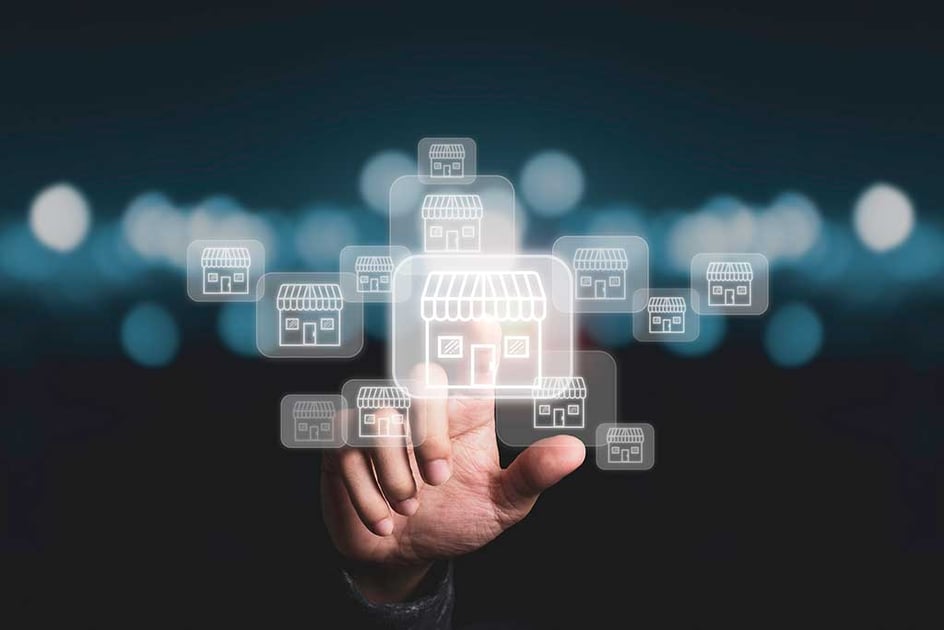 In 1941, a son of poor farmers, Carl Nicholas Karcher, opened a hot dog stand in Los Angeles, CA, with a loan of $311. In just four years, Carl and his wife opened their first brick-and-mortar restaurant, named Carl's Drive-In Barbecue. In 1956, Carl opened two additional restaurants, nicknamed Carl's Jr. By the 1960s, Carl had 24 restaurants throughout southern California and by 1975, he was operating 100 locations. Today, Carl's Jr. has over 3,650 locations in 39 countries. The story of Carl's Jr. highlights what is possible through multi-unit franchising. Carl Karcher could have maintained his original restaurant for the rest of his life but was a growth-minded leader with big dreams. His story shows us what is possible for franchisees with drive and dedication to a growth plan.
The multi-unit franchising trend began in the 1980s as the children and grandchildren of the franchisees who started the business took over and really focused on growth. Today, the majority of franchises are owned by operators who own six or more units and the number of operators owning multiple units is increasing. According to FRANdata, 45,000 multi-unit operators control 82% of all QSR units.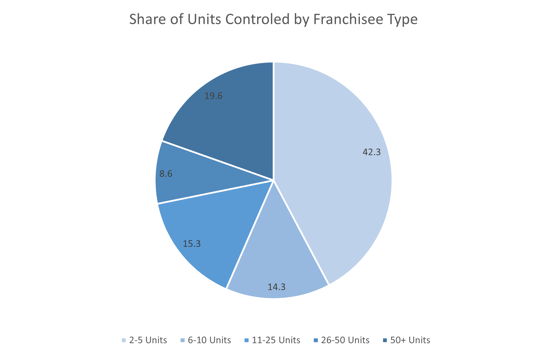 Benefits
According to Mariel Miller, founder of The Franchise Advisor, a franchise consulting firm, multi-unit franchise ownership is an especially popular option for people who want to keep their careers and invest. Multi-unit franchising allows the owner to step away from the day-to-day operations and essentially manage the managers. This role shift can allow for more free time to concentrate on additional investment.
The pandemic highlighted another benefit of multi-unit franchising: economies of scale. Multi-unit franchisors can tap into better pricing from vendors for larger orders. Additionally, the core infrastructure of HR, payroll, and accounting is centralized and adding additional units becomes easier. According to Miller, "The main benefit of becoming a multiple-unit franchisee is that the business offers an established product or service according to ever-improving operating systems. With a solid system in place, modern franchisors can tap into technology to remain connected without physically visiting or monitoring locations.
Challenges
One of the challenges facing franchisors looking to expand is the shift in leadership. Many owners of 1-5 units are also operators and step in to manage locations when they are short-staffed. However, as owners expand in more units, their role must move to a more strategic leadership role with regional managers who handle daily operations.
While adding additional units is an opportunity for aspirational employees to take a greater role in the organization, the labor shortages facing the entire industry may make expansion difficult. Additionally, technology is vital to helping many franchisees manage multiple locations, but the initial investments can be costly. Crossing the break between owner/operator and owner/investor can be difficult, but there are numerous rewards for franchisees who make the shift.
Financing
For franchisors looking to increase their number of units, there are two common methods of obtaining capital to expand: equity and debt.
Equity financing involves giving up part of the ownership and/ or control of your business to obtain the funding you need. An individual or organization that provides equity financing is not a creditor. Instead, they become your business partner to varying degrees. The more capital you need, the larger the share of your business they'll expect to receive. And, in most cases, equity funders will want to play an active role in making decisions about the business. This is an excellent option for franchisees who are looking for capital and a partner to help share responsibilities of the business.
Debt financing involves a loan in which you borrow an amount and agree to pay it back over a specified time period at an established rate of interest. Through interest, you are basically paying the lender for the right to temporarily use its money. While you will be expected to use business assets to secure the loan as collateral, you continue to own those assets and will lose that ownership only if you fail to pay the loan as prescribed. While most business owners are reluctant to go into debt, funding your business growth this way means that you don't have to worry about giving up part of your ownership or control. Once you've repaid what you borrowed (and the interest on the loan), you're in the clear.
Some franchise owners turn to their local bank for loans to purchase additional units, but local banks do not always understand the business model of a multi-unit franchise. However, there are specialty lenders who are accustomed to working with franchise owners. They understand how a business like yours operates, so they can approach the underwriting with realistic expectations and an appreciation for inherent risks.
Looking for a lender that understands and focuses exclusively on serving franchise operators? First Franchise Capital Corporation® (FFCC) provides cash flow and asset-based loans to franchise owners throughout the United States. We believe strong relationships with our clients lead to personalized service and customized finance solutions to finance equipment, real estate, and business acquisitions. Contact our team of specialists for a personalized client approach to ensure your satisfaction and success.
---
First Franchise Capital does not make any representation as to the accuracy of materials presented in any webinar, whitepaper, vlog or blog, nor legal or financial information contained therein. Third party advertisements, links or presentations are not endorsements or recommendations by First Franchise Capital. Any materials presented are for informational purposes only. They are not offered as and do not constitute an offer for a loan, professional or legal advice or legal opinion by First Franchise Capital and should not be used as a substitute for obtaining professional or legal advice. The use of any materials, including sending an email, voice mail or any other communication to First Franchise Capital, does not create a relationship of any kind between you and First Franchise Capital.